Yoga in the Park Leicester 2022
18th June 2022 (10.00 a.m. - 1.00 p.m.)
For Progressive Supranuclear Palsy
Click here for details
Yoga in the Park 2022
Yoga Classes
Let's embrace life with yoga and mindfulness. Nerissa will be teaching via Zoom and some face to face at the following times:
Monday Yoga 6.00 - 7.00 p.m. (Zoom)
Tuesday Yoga 10.00 - 11.00 a.m. (Zoom)
Tuesday Yoga for Pregnancy and Childbirth 5.30 - 6.30 p.m. (Zoom)
1st Tuesday of every month - Mindfulness - 7.00 p.m. ID 879 5033 1259 no passcode required (FREE on Zoom)
Wednesday evening: 6.45-8.45 pm Mindfulness via Zoom WEA class from 14th September, WEA course
Thursday Yoga 1.00 - 2.30 p.m. (WEA face to face) from 22nd September
Saturday Mindfulness for Children T.B.A
For all courses please contact
Nerissa
for more info.
Cost is on a pay as you feel or can afford basis £3-5
If you are interested in any of these online virtual yoga classes email nerissafields@yahoo.co.uk and ask for instructions on how to participate.
---
Yoga for Pregnancy - Tamara
"My second yoga for pregnancy course with Nerissa did not disappoint. All the exercises, breathing, movement and technique taught for pregnancy and birth are essential. I found myself using a mixture of Nerissa's yoga course during my labour and birth and it got me through the whole birthing journey. It was also comforting and supportive to have a group of fellow mothers to be in the same boat as yourself. We check in every week co-ordinated by Nerissa. Probably the best pregnancy course you can do for you and your baby to prep for labour."
---
Post-natal Yoga - Vibhuti
"Nerissa has a wealth of knowledge when it comes to pregnancy and post pregnancy yoga and is so supportive and caring !!! You can see it's the genuine passion of wanting to help us ladies. With both my boys I was lucky enough to experience the sessions in 2 very different environments. With lock down I could continue the post pregnancy yoga in the comfort of my own home without having to worry about my baby - these weekly classes are so valuable and enjoyable as I make time for myself . The sessions begin with a check in and Nerissa provides extra support to any concerns or areas of discomfort anyone is feeling. The sessions are ended with relaxation which I often don't complete as the magic in Nerissa's voice and technique send me to la la la land and then I find myself waking up and recharged! Thank you for the weekly zoom sessions, be lost without you!"
About Yoga with Nerissa
If you are looking for Yoga classes in Leicester that will improve your flexibility, mindfulness and give you a sense of well being then Yoga with Nerissa will meet your needs. You can be seven or seventy, exercising regularly or leading a more gentle life, Yoga with Nerissa adapts the principles of Yoga to your changing needs.
Teaching is a privilege as well as a profession and encapsulates Nerissa's way of life.
So much can be learnt from those you teach: be it the wisdom of 9 year olds, the inhibitions of many with learning disabilities, the frequent openness of pregnant women or the wit of prisoners! In spite of the depth of pain that many carry there is often time for laughter... the best meditation of all.
Nerissa is based in Leicester and over the years she has been fortunate enough to work with individuals in many circumstances and feels that teaching should be interactive; a two way process, a building of a relationship with whoever she works with.
---
Mindfulness - Raj
"This is a great course for individuals wanting to explore what mindfulness is,the skills involved, and how to introduce it into daily life as a tool to increase self care and well being skills. It also enables participants to enjoy time out, to learn and partake in and practice mindfulness together and individually. Nerissa is a very experienced and knowledgeable tutor, who is friendly, flexible and nonjudgmental. She puts people at ease from the start with her calm, down to earth approach, her gentle wit and understanding. We covered a range of topics in the course including the theory of what mindfulness is, the mental and physical benefits, and practical exercises and suggestions. There are also opportunities for the group to interact and discuss how they feel and get on week by week, and to share challenges and tips on how they are doing as the course progresses."
Yoga for Pregnancy Babies 2017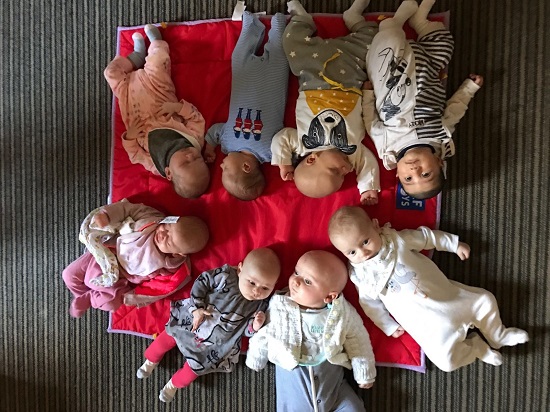 Salute to the Sun
Antenatal Yoga
---
Mindfulness for Children - Angela
"Myself and my daughter who's 6 years old thoroughly enjoyed your mindfulness course, it has come in so handy recently with the lockdown, as home-schooling has been a challenge but my daughter has used some of your techniques without any prompting. I would highly recommend that all families would benefit from doing this course"