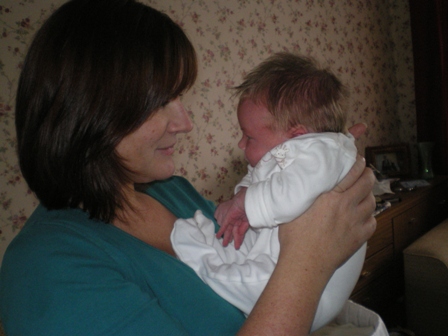 Siobhan's Story - Successful VBAC
Following a restless night where I needed the loo more frequently than ever, I woke at 6am with period like pains. Whilst I knew these can be felt during early labour, I ignored them being as I'd had them lots before. In fact, I had tummy ache & my hips and pelvis were very sore (mainly due to SPD pain increasing as baby engaged) for 2 days and had joked that I would not be surprised if I went into labour that weekend!
The pains didn't go away and were coming regularly; it was then that I suspected that I'd gone into labour. I woke hubby at 7am to tell him - I couldn't leave it any longer to tell him the great news. I was so pleased being as I'd been induced in my 1st pregnancy.
I put on my TENS machine, put some labour oil onto a tissue to inhale & started using my birth ball. We arrived at the hospital around 9.30am. I was examined and was only 2cm dilated which disappointed me. I continued to use the birth ball, mainly rocking to and fro & rotating my hips for the whole of my labour as this was the most comfy position for me. I only lay on the floor for examinations but even this was excruciating for me.
When I reached the pushing stage, I was really focusing on letting go & was making very loud, deep noises (am sure whole delivery suite would have heard!) but no screams. I was struggling at this stage as I felt I could no longer push. The midwife said I only had a few more minutes to get baby out as he was tired before she would need to do an episiotomy. She did cut me as within 2 minutes baby Isaac was born.
I was delighted to have achieved a successful vbac, especially being as I was begging for an epidural at 2 cm's dilated! The midwife & hubby told me that I could not have one because it was too early & it would increase the chances of another section; I'm so very grateful that they didn't let me as I managed to re-focus, regain control (to a degree!!!) and have the natural delivery that I so wanted.
We're all doing well, he's a hungry boy just like Jonah. Jonah has adapted very well to the new addition which is great.
Also, a midwife who came out to see me at home says that her claim to fame is that she delivered your twins! Such a small world.