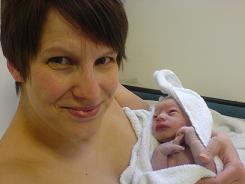 Laura's Story
I began having contractions at about 11pm on Weds 29th which were coming every 5 minutes so got no sleep all night - spent the night on my ball rocking. They carried on all day on Thursday so I went for my sweep as was planned (41 > weeks) and was told I was 2cm dilated but my cervix was still quite long and firm. Contractions got worse for about an hour but then died down and I managed a few hours sleep on Thursday night.
On Friday the contractions were stronger so we decided to get things moving with a walk around the block and then later in the afternoon we went for another walk. This made the contractions very regular and at about 10pm I phoned labour ward to tell them I was coming in as they were really painful and every 3-4 mins. I was told again that I was only 2cm but that things were progressing and to go home and come back when they were every 1-2 mins apart.
We went home but I was in agony and getting a few minutes sleep inbetween every contraction and then as about 2am I had a wave of about 6/7 contractions one after another so decided to go back to the labour ward. After being prodded again I was relieved to be 4cm finally and told they would get the pool ready for me.
We made it into the pool at 4.15 and started on the gas and air and I can honestly say I barely remember the contractions after that. The midwife was wonderful as well -really calming and attentive. At 7am ish the midwife shift ended though but by this time I was completely out of it and it all seemed like a dream - DF said my pupils were tiny! Think I was entering 2nd stage of labour by that point and by 8am I was busy pushing. We had 1 scare when baby's HB dropped just before I pushed his head out but it came back up again and at 8.33am on Saturday morning he was in my arms - 9 days late.
He weighed a tiny 6lb 4 (was expecting at least 7-8lbs) but all was good. I had to have a few stitches for some grazes but no tears - think the stitches were more painful than the delivery! We stayed in hospital overnight as Luke's temp was low to start off with and his blood sugar was low so they had to cup feed him donor milk for a little while but on Sat night/Sunday morning we had started to get BF established so I asked to be discharged and we came home Sunday night. He is breast feeding really well - he weighted 6lb 3.5 today so lost hardly any weight and last night he slept regularly for 2-3 hours at a time - long may it last.
The first midwife I had during the labour kept saying that I was like a pro - no noises at all - the gas and air helped with my breathing and even when it came to pushing I used grunting noises - I even told Phil at one point that the lady in the room next door should stop screaming as it wouldn't help her!