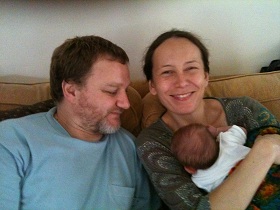 Sally's Birth Story
My contractions started on the Sunday night. I felt really excited and told my partner Johnny. The contractions carried on through the following day and we stayed at home, just going out for a couple of walks to the shops and watching a film (Troll Hunter which was very good). I made use of my ball and stool and tried to keep moving around and breathing. This carried on into the night and it wasn't till about 1 that we phoned the midwives. They said I looked very calm and were impressed that I was still smiling. They said I was not dilated enough so agreed to come back (depending on if they got called out to another home birth - there was only 2 on shift!)
I carried on trying to manage my contractions. The best position for me was on my hands and knees but it was quite wearing heaving myself up every time. I tried to make a nest of cushions on the bed but it wasn't comfortable. Johnny went to sleep on the floor for half an hour. I felt pretty alone at this point and thought maybe I should go into hospital. I didn't know how to progress my labour. When Johnny woke I told him my fears and we got a bit more focused and started working as a team. I put the Tens machine on and Johnny gave me some massage. I think I had had 2 baths by this point. The contractions were coming much stronger and we called the midwives out again.
The midwives arrived in the early hours of the morning and I was quite far dilated. They thought it wouldn't be long. They were about to change shift so called the next midwife (my own midwife) and she arrived at 8 with her student following some time after that. The contractions almost died away at this point. I kept bouncing on the ball to try to get them going. My highlight was bouncing to Toots and the Maytals! My midwife got me to climb the stairs two at a time several times. I felt like a mountain climber. Things were taking too long and my midwife was starting to talk about me going into hospital. I even phoned my mum and told her to meet me there.
After another examination my midwife told me I was 10cm dilated, she could see the baby's head and I could push! Everyone sprung into action. Another midwife turned up and also my mum who thought I might still be at home. I tried a few different birthing positions including standing up. My contractions were still not very strong so I had to keep bouncing and jiggling on the ball. I was rocking back and forth which my midwife said she had not seen before. Martha Serena was born onto my bedroom floor with my partner supporting me under the arms at about 5.34pm.
We are all happy and well and adapting to family life. The yoga really helped me stay in control and made me feel like I could do it, thanks Nerissa.